Tributes to Cheddi Jagan
The Cheddi Jagan Children's Fund
After Dr Jagan passed away on March 6, 1997, the family began to receive large amounts of floral arrangements. They felt that it would be much better if people could instead make a contribution toward a good cause. As Dr. Jagan had always felt very close to children and to their wellbeing and education in this world, they decided to set up a fund that could help children - The Cheddi Jagan Children's Fund.

Over the last two years (1997-1999), due to the kindness and generosity of many individuals and businesses, we have been able to set up new libraries in several rural communities and to supply books to many existing libraries in schools across Guyana. We have concentrated mainly on books for reading pleasure and on school text books to help out students who cannot afford to buy them.

The Trustees of the Fund were: Mr. Yesu Persaud, former President Janet Jagan, Mr. Donald Ramotar, Mrs. Sheila George, Mr. Vic Oditt and Nadira Jagan-Brancier.
The Fund is no longer in existence - 2007
Cheddi Jagan Children's Fund Donates Books
Six Primary Schools benefited from a donation of books from the Cheddi Jagan Children's Fund. Schools from different parts of the country received a variety of books comprising textbooks, children stories, revolutionary poems and works done by the Late President Cheddi Jagan.
The schools that benefited from these gifts were Arakaka Primary in Region 1, Lima Sand Primary in Region 2, Fort Island Primary in Region 3, Champagne Primary in Region 5, Yakusari Primary in Region 6 and Kato Primary in Region 8.
From March 1998 to March 2001, an amount of over $6M (Guyana Dollars) was expended to purchase books for schools and libraries across the country by the fund.
Update March 6, 2004: The Cheddi Jagan Children's Fund, which was set up in memory of Dr Jagan will also be making book donations to schools and other educational institutions in observance of the month of March 2004. Among the schools to receive books are the Karasabai Primary School, Kopinang Primary School, Rose Hall Primary School, Novar Primary School, Providence Primary School and Laluni Primary School. This will bring a total of fifty one schools, libraries and community centres that have received book donations under the Fund.

© 1999 Cheddi Jagan Research Centre. All rights reserved.
The stamps issued in Guyana, dedicated to the memory of Dr. Cheddi Jagan

This special issue of commemorative stamps was completed before the death of President Cheddi Jagan
This stamp was issued on the occasion of the 50th Anniversary of President Jagan in Parliament - December 18, 1997

© 1999 Cheddi Jagan Research Centre. All rights reserved.
The Cheddi Jagan Dental Centre
This new dental centre opened in 1998 in Georgetown, Guyana, was dedicated to the memory of Dr. Jagan. Guyana's oral health programme which focuses primarily on the oral health status of children and improved access for hinterland Guyanese, is centred here.
Tributes to Dr. Jagan - Dedications
Portrait of Dr. Jagan in Parliament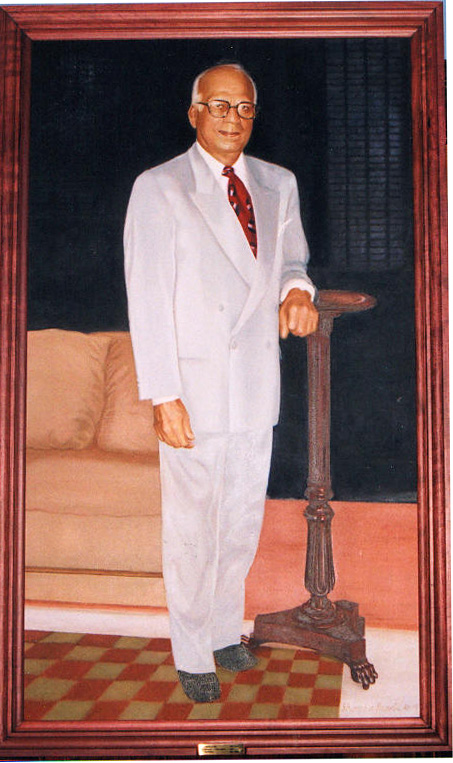 A portrait of Dr. Jagan was unveiled in the National Assembly at the Parliament Buildings on March 22, 2005. The life-sized portrait was painted in Guyana by an artist from India, Mrs. Shoba Bhuta and was originally unveiled at the Cheddi Jagan Research Centre on February 2, 2205.