Tributes to Cheddi Jagan
Cheddi Jagan & Janet Jagan Commemoration Committee
Activities for March 2011
date

time

event

region

place

notes

WE

2

17.00

Night of Reflection

4

Freedom House

SA

5

Fitness Walk/ Lecture/ Soft ball

1

Yarakita

SA

5

17.30

Floodlight Cricket

4

Lusignan

SU

6

15.00

Tribute

6

Babu John

SU

6

7.30

Wreath laying

2

Anna Regina

Children Play Park

SU

6

9.00

CJ Cycle race

6

Berbice

NA – No 0 –babu john

MO

7

9.00

Exhibition opening

4

National Library

TU

8

International Women's Day

4

Freedom House

WPO

SA

12

Lecture/ Soft ball

1

Hotoquai

SU

13

Fitness Walk/ Lecture/ Games

1

Hosororo

SU

13

7.00

Fitness walk

4

National Park

SU

13

9.00

CJ Cycle race

3

Demerara

Wales-bushy park-bridge

SU

13

9.00

Medical Outreach

4

Yarrow dam / Riverview

MO

14

Discussion on Life & Work of CJ & JJ

2

Charity

WE

16

Lecture on CJ

2

Tapakuma Primary

WE

16

17.00

Gtown Inter-group Discussion

4

Georgetown

Redeemer Prim

SA

19

Lecture/ Soft ball/ Games

1

Red Hill

SU

20

Church Service / Fun Day

8

Kopinang

TU

22

Cultural Evening/ Video Show

5

Bath Primary

WPO

TU

22

Wreath Laying / Feeding of Elderly

8

Kopinang

monument

TU

22

17.00

CJ Annual Lecture

4

Red House

WE

23

17.30

Cultural Activity

3

Uitvlugt

GAWU

TH

24

Exhibition (books, photos,videos)

2

Anna Regina

PPP Office

TH

24

17.00

At Home with Cheddi & Janet

4

Heritage House

FR

25

Cultural Evening

4

Diamond Com Cent

WPO / PPP

FR

25

17.00

Reflection & Wreath Laying

9

Lethem

FH

SA

26

Lecture/ Domino/ Outdoor Games

1

Mabaruma

SA

26

Safari begins

4

SA

26

10.00

District Conference & Reflection

9

Lethem

Central Rupunini Dist

SU

27

Fitness Walk/ Lecture/ Games

1

Wauna Hill

SU

27

Volley ball/ circle tennis

2

Anna Regina

Children Play Park

SU

27

10.00

Inter-District Soft ball / Domino

4

Diamond Com Cent

SU

27

10.00

Soft ball competition

4

Better Hope Com Cent

SU

27

10.00

District Conference & Reflection

9

Karasabai

SU

27

11.00

Wreath Laying

8

Kopinang

SU

27

14.00

Family Fun Day

4

State House

SU

27

16.00

Cultural Evening

4

Unity

WPO / PPP

SU

27

8.00

Wreath Laying

9

Karasabai

Monument

SU

27

9.00

CJ Cycle Race

2

Essequibo

Supernaam-Charity-AR

MO

28

Unveil Monument of JJ

2

Ann Regina

WPO

MO

28

Wreath Laying (JJ anniversary)

6

Babu John

WPO

WE

30

17.00

Cultural Activity

5

Blairmont

GAWU
Dr. Jagan remembered at Anna Regina wreath-laying ceremony
Written by Rajendera Prabhulall (Tuesday, 08 March 2011 06:05)
THE late founder of the People's Progressive Party (PPP) and President of the Cooperative Republic of Guyana, Dr. Cheddi Jagan was remembered at a moving wreath-laying ceremony, on Sunday, in the play park named for him at Anna Regina, on the Essequibo Coast.
Wreaths were laid at the foot of the monument erected in his memory, by Chairman of Region Two (Pomeroon/Supenaam) and Executive Member of the People's Progressive Party (PPP), Mr. Alli Baksh; Regional Vice-Chairman, Mr. Vishnu Samaroo, on behalf of the PPP District Committee; Member of Parliament (MP), Mr. Parmanand Persaud on behalf of the Regional Administration; Mr. Showkat Ally on behalf of the Rice Producers' Association (RPA); former MP, Mr. Isahack Basir; representative of the Women's Progressive Organisation (WPO) and Progressive Youth Organisation (PYO) Mrs. Angelia Singh and Mr. Abrahim Baksh, for Guyana Agricultural and General Workers Union (GAWU).
Baksh reminded that the function marked 14 years since Dr. Jagan died and he said the deceased was a liberator and teacher, who always encouraged others not to be negative and always look to the positive things in life.
Recalling Dr. Jagan's struggles during 28 years in the Opposition, Baksh said the former was a great fighter who stood against dictatorship and mobilised patiently.
According to him, Dr. Jagan had the will to go on despite many having left and tried to break the party but showed him love later.
Baksh said the late leader travelled across the country and visited every community to interact with Guyanese at the grassroots level.
Another speaker, PPP stalwart Mr. Isahack Basir encouraged other Guyanese to read and study the history of Dr. Jagan and try to follow his teachings.
Basir, who worked closely with Dr. Jagan, said the latter played a very important role in the development of Guyana and is a model to be followed.
Basir exhorted PPP members to always be proud to associate with the party founded by Dr. Jagan.
New Yorkers Pay Tribute to Jagans
Written by Vishnu Bisram (Thursday, 31 March 2011)


New Yorkers came out last Saturday afternoon to pay tribute to their heroes Cheddi and Janet Jagan. March happens to be the birth and death anniversaries of Dr. Cheddi as well as the death anniversary of his wife. They were popular heroes leading the anti-colonial movement and the struggle against the dictatorship that was established after independence in 1966. An ad hoc group called Jagan Memorial Committee planned and organized a tribute to the two heroes at the Nareesa Palace in Queens. It was a commemorative service celebrating their lives. There were lectures, poetry, and musical entertainment. The speakers recalled their experiences with Cheddi and Janet. It drew a nice crowd to fill up the ballroom complete with dinner. I applaud Faiuze Ali, Chuck Mohan, and other organizers for a job well done.

The speakers talked about Jagan's entry into politics and his victory in winning a parliamentary seat in 1947 and his leadership role in the formation of the Political Affairs Committee (PAC) and the People's Progressive Party (PPP). They reminded the audience that the struggle for freedom by Cheddi and Janet must never be forgotten for "we can never thank them enough for their enormous contributions to the nation". Their struggle changed the course of Guyana's history.
One speaker noted that Guyanese did not have the right to vote when Cheddi and Janet came to Guiana from the US and after independence their right to a ballot was taken away from them through electoral fraud. It was the struggle of Cheddi and Janet and others that succeeded in getting the British to grant universal adult suffrage in 1953 that led to the landslide victory of the PPP. And when the right of the vote was taken away from 1968 in fraudulent elections, they renewed the battle for the restoration of democracy and free and fair elections. When democracy was restored, Cheddi was elected as the first democratic president and his wife Janet became the second president to be chosen in a democratic ballot. She was also recognized as a woman with a number of firsts in her long history of involvement in politics.
The audience was also reminded that support groups in NY, although only the ACG's name was mentioned, helped in the struggle for the restoration of democracy in Guyana.
Through the tireless efforts of Cheddi and Janet, Guyana experienced a wealth of benefits including gains in eradicating poverty, free education, and social advancement for many.
Another speaker noted how Jagan fought for peace and freedom around the globe and for debt relief for heavily indebted poor countries. He advocated a New Global Human Order as well as sustainable development at every international fora, while in opposition or in government.
We were reminded that Cheddi viewed the world as being divided between rich and poor, the haves and have nots, and North and South. Jagan called for the eradication of poverty and preservation of scarce resources as well as transfer of wealth from North to South. The speakers noted that Cheddi called for poor nations to co-operate with one another and for the rich to help them overcome developmental problems. He wanted development to take place with a human face and that the environment be protected. He called for the transfer of resources from the rich nations to the poor to reduce poverty in developing countries. To promote peace, he called for the reduction in military spending and a more equitable trading arrangement between rich and poor countries. At home, Cheddi sought to create job opportunities and improve basic services in health, education, and welfare. He ran a lean, clean, and mean government to serve the needs of the population. There were cheers when the many contributions of Cheddi and Janet were uttered.
Jagan and his wife were not selfish. No one can point a finger at them for taking a cent from the treasury. Both lived a modest life. They were incorruptible.
The event provided an opportunity for those who partook in the struggle against the dictatorship to meet and reminisce. It was good seeing PPP old timers, some of whom collaborated with us in NY during the 1970s thru the 1990s in the anti-dictatorial movement organizing protests, marches, leafleting, penning commentaries in newspapers to inform the world about rights abuses in Guyana, etc. The group also recognized several old time PPP stalwarts who were involved in the struggle against oppression and against the dictatorship. Among the honourees were Albert Boodhoo from GAWU and Swasi Deola from Port Mourant.
The audience was entertained by several artistes including the popular Joyce Ormilla Harris and a band of musicians as well as karaoke music and singing. There were popular renditions,including those that were sung in 1997 after Cheddi's death at his various wakes in Guyana and NY.
Cheddi & Janet
Jagan Commemoration Committee
Activities for March 2012
date

time

event

region

place

notes

TH

1

Lecture

6

Port Mourant

Training Centre

TH

1

16.30

Lecture

5

Bath Settlement

Freedom House

SU

4

9.00

Cycle Race

6

Berbice

NA-No 54- Babu John

SU

4

15.00

Tribute

6

Babu John

TU

6

WPO School Lecture

3

Zeeburg

Sec School

TU

6

Wreath Laying

2

Anna Regina

CJ Play Park

TU

6

17.00

Kowsillia Tribute

3

Anna Catherina

TU

6

17.30

Night of Reflection

4

Freedom House

WE

7

Volley Ball Competition

2

Anna Regina

Children Play Park

SA

10

Education Seminar

2

Anna Regina

Freedom House

SA

10

15.00

WPO Int Women's Day activity

4

Red House

SU

11

9.00

Cycle Race

3

West Demerara

Wales/ Bushy Park/ Bridge

SU

11

9.30

Wreath Laying Ceremony

9

Lethem

Freedom House

MO

12

WPO Lecture

2

Anna Regina

Freedom House

MO

12

Exhibition start

4

National Library

To 16th

TU

13

GAWU Cultural Programme

3

Uitvlugt

TU

13

GAWU Cultural programme

6

Albion

WE

14

GAWU Cultural Programme

5

Blairmont

WE

14

Fitness Walk

2

Anna Regina /Lima Sands

WE

14

17.30

Cultural Presentation

5

Bath Primary

Primary School

SA

17

Tree Planting

2

Anna Regina

CJ Park

SA

17

9.00

District Conference / Film Show

9

Aishalton

Community Centre

SU

18

6.00

Fitness Walk

4

National Park

SU

18

9.00

District Conference / Film Show

9

Potarinau Center

SU

18

14.00

State House Fun Day

4

State House

TU

20

17.00

Annual Lecture

4

Red House

WE

21

Clearing of Monument

8

WE

21

18.30

Lecture / Video

4

Ogle

Nokta's res

TH

22

Lecture at School

8

TH

22

18.00

At Home with CJ & JJ

4

Heritage House

Bel Air

SA

24

WPO Outreach Old Folks

2

Essequibo

Golden Fleece- Adventure

SA

24

Wreath Laying and Meeting

8

SA

24

District Conference / Film Show

9

Lethem

Fom House

SU

25

District Conf / Film / Wreath Lay

9

Karasabai

Center

SU

25

9.00

Cycle Race

2

Essequibo

Supanaam/ Charity

SU

25

13.00

CJ & JJ Fun Day

5

Bath

Center Ground

WE

28

JJ Wreath laying

6

Babu John

WE

28

WPO Lecture

10

Three Friends

WE

28

17.00

WPO Lecture / Video

4

Diamond

Community Center

WE

28

18.00

Lecture Cville Group

4

Freedom House

SA

31

WPO Lecture / Video

4

Mahaica

Vereen's Residence

SA

31

District Conference / Film Show

9

Arnaputa

Resource Center

GAWU Cultural Programme

6

Skeldon

GAWU Cultural Programme

6

Rose Hall

Exhibition

6

Rose Hall
Dr. Jagan a revolutionary person who fought for freedom-Prime Minister -during launch of pictorial exhibition at National Library
Georgetown, GINA, March 12, 2012

Prime Minister Samuel Hinds today officially declared open a 'Cheddi Jagan Pictorial Exhibition and Book Display' in the Auditorium of the National Library, Church Street.
The annual event which seeks to promote the life and struggles of late the President, and will run for one week; saw books authored by Dr. Jagan such as the 'A New Global Human Order; Forbidden Freedom and the The West on Trial, on display.
<![if !vml]>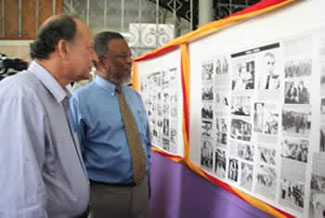 <![endif]>
Prime Minister Samuel Hinds and Mohamed Sattaur, Administrator of the Cheddi Jagan Research Centre view photographs which depict Guyana's struggle for independence
Mr. Hinds while expressing his pleasure to once again launch the activity, stated that March is a significant time for the Jagans, as it represents the life and death anniversaries, of the one person who truly felt the call to be Guyanese.
"Dr. Jagan served the people for a number of years gracefully….we generally describe him as a fighter and someone who struggled for rights. The late president also brought harmony among Guyanese," he said.
Meanwhile, Mohamed Sattaur, Administrator of the Cheddi Jagan Research Centre (Red House), who accompanied the Prime Minister, stated that the exhibition which honours the work and life of the late leader was initiated by Mr. Janet Jagan five years prior.
He encouraged the public to visit the National Library and Red House where exhibitions will be held to learn more about Guyana's history and struggle for independence.
The pictorial exhibition will be followed by a series of events such as a march dedicated to the Jagans; a fitness walk on March 18 and a lecture on the life and work of the late leaders (Dr. Jagan and Mrs. Jagan), on March 21 and 22..