Tributes to Cheddi Jagan
Messages of Condolences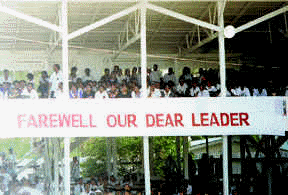 The news of Cheddi Jagan's passing on March 6, 1997 was received with great sadness in Guyana, and around the world.
Messages poured into Guyana from around the world, from friends and acquaintances of Cheddi Jagan. Hundreds of caring people sent in messages of condolences over the Internet. They were all so beautiful and touching.
Messages of condolences from world leaders, also began to pour into Guyana, immediately following his death. Here are some of those messages. They illustrate the kind of man, Cheddi Jagan was to his supporters, his peers and to his opponents:

<![if !vml]> <![endif]>
The people of Guyana: "He was the Mahatma Gandhi of Guyana."
"He left us with hope and inspiration."
"He was the brightest gem in the land."
"He has gone but can never be forgotten.
"He showed by example what can be achieved through honesty, integrity, dedication and commitment."
<![if !vml]> <![endif]>

<![if !vml]> <![endif]> The people of Berbice (the birthplace of Cheddi Jagan) reacted with shock as the news was announced early Thursday morning. On the Corentyne, hundreds of sugar workers attached to the Albion sugar estate, downed tools for the day and marched to the home where the late President was born. They said it was as a "sympathy watch." On lookers, lined the more than four-mile route to watch the sombre workers, some carrying black flags.

<![if !vml]> <![endif]>
Janet Jagan (former President of Guyana and Cheddi Jagan's wife) said: "I can testify to his goodness, to his honesty and integrity, to the lack of concern for the material things in life, to his remarkable intellect, always seeking answers, always examining all aspects of a matter, always seeking the truth. Those who have stood by him faithfully all these trying years, struggling for the people's rights, know his wishes, his dreams, his plans. All of us will carry the torch he lit so many years ago."

<![if !vml]> <![endif]>

Prime Minister of Guyana, Sam Hinds, who was later to be sworn in as President, in an address to the nation said: "…that extraordinary light that shone in the world for nearly 79 years has been extinguished. The greatest son and patriot that has ever walked this dear land has departed.. President Jagan has left us a proud legacy and has placed our country irreversibly on the road to progress. That was why he exhorted us from his hospital bed, "'Don't worry, everything will be alright.'"

<![if !vml]> <![endif]>
Moses Nagamootoo wrote: "That extraordinary light that shone in this country for almost 79 years has been extinguished; that life of epic proportions that graced this land has been eclipsed by sudden illness and death, but his legacy lives on. His life was characterized by an incalculable breath and depth and height of devotion and service to his country and to his countrymen and women. He was, indeed, a giant – indomitable in courage unflagging in zeal, steadfast in purpose, total in commitment, clear-sighted in vision, irreproachable in character, and yet simple in manner, and scented with the sweat and soiled by the toil of the ordinary folk whose world was always his. Cheddi Jagan was a great Guyanese; indeed the greatest that has ever walked this land of ours. In a real sense, much of the history of this land over the last half a century is what Cheddi Jagan endured, did and achieved."

<![if !vml]> <![endif]>
Jean Chrétien, Prime Minister of Canada, wrote :"Dr. Jagan was a true pioneer in the cause of independence, democracy and social justice for the developing world. He was an inspiration for those who dared to dream that a new human order could be created in the world, based on mutual respect and partnership. More than that, he was a born leader, a tireless fighter for his people, as well as a gentle, courteous man who combined charisma with compassion. I count it a privilege to have know him, to have worked with him and to have been his friend."
<![if !vml]> <![endif]>

United States President, Bill Clinton wrote: "President Jagan was a champion of the poor who devoted himself to alleviating poverty in his country and throughout the Caribbean."
<![if !vml]> <![endif]>

India's Prime Minister, H.D. Gowda wrote: "We in India have always had the highest regard for Dr. Jagan. Few have done as much as he did to nurture the age-old ties of family and friendship between Guyana and India.
<![if !vml]> <![endif]>

Natasha Jagan Brancier (Cheddi Jagan's granddaughter).
My Grandpa Cheddi, he had a dream that came true in his life.
And it was to help other people and the animals on the land.
He had another dream, that came true, to bring unity to the land,
And it came true and the people all loved him and
He became the Father of the land.
And all the children, that followed for many years would understand,
He's not only a hero but a legend, who I will love forever more.
<![if !vml]> <![endif]>

Ian McDonald (Guyanese poet) wrote: "I feel particularly sad the Dr. Jagan did not have at least some time to rest, reflect on the struggles and achievements of a great life, and write down for us and succeeding generations the experiences and lessons of an extraordinary lifetime… He deserved a few quiet years in the bosom of his family, his party and the nation. Of course he would have scoffed at such suggestions… He would have wanted to work hard to the end.… He was not cut to be a bystander… Still those years of peace and writing he might have had are a loss to the rest of us. His voice would have been heard on the side of reconciliation and national unity. His presence would have been a stabilizing anchor in whatever storms might blow. His memories written down, and reflections refined by deeper thought, would have provided an absolutely unique picture of Guyana and its history in a long and abundantly filled life."
<![if !vml]> <![endif]>

<![if !vml]> <![endif]> Barbadian author, George Lamming wrote: "The name Cheddi Jagan has acquired for more than one generation, the feel of permanence and awe which time confers on certain historical monuments; and there was something monumental in the consistence of purpose and the unique kind of dedication which he brought to the public life of the people of Guyana. There is no Caribbean leader who has been so frequently cheated of office; none who has been so grossly misrepresented, and no one who, in spite of such adversity, was his equal in certainty of purpose and the capacity to go on and on until his time had come to take leave of us. And in my own personal experience, I know no other Caribbean leader with whom sharp and wide disagreement could also be the occasion for warm and fraternal embrace."
<![if !vml]> <![endif]>

Director of COHA, Mr. Larry Birns, wrote: 'The death of Cheddi Jagan is not just a grievous personal loss to myself and my colleagues at the Council on Hemispheric Affairs. It also will leave a particularly broad void in the ranks of world class leadership among the English-speaking Caricom Nations ,as well as the rest of the hemisphere. In the category of Latin American presidents, he was as indisputable giant among pygmies...It is no overstatement to say that Jagan was one of Latin America's towering figures of the twentieth century, and one of the region's few authentic contemporary democratic figures, both in deed and in exhortation....A philosophical Marxist (as distinct from the Stalinist form, which he came to abhor), he was one of the few world leaders (and maybe the only one) of the political belief that fusing democracy with a distinct public role is a practical basis for policy. In fact his presidency was guided by pragmatism, melded with humanness, and helped preserve a vital germ plasma for a future flowering of a uniquely Latin American form of government aimed at serving all of its population – not just a small minority of well-to-do.... Perhaps, the single-most noteworthy aspect of his personality was that he was free of any meanness or narrowness of vision."
<![if !vml]> <![endif]>

Prime Minister of Mauritius, Dr. Navinchaandra Ramgoolam, wrote: "He won the hearts and affections of the people of our nation, and will be mourned by millions overseas."
<![if !vml]> <![endif]>

Secretary-General of Caricom, Edwin Carrington wrote: "…He was not afraid to employ his considerable talents to forge innovative ideas and approaches in coming to grips with the problems of the region, particularly those imposed by debt and poverty. Indeed Dr. Jagan, may well have left for us a blueprint for enhancing the human condition, in his several viable proposals, the wisdom of which will certainly help to guide the region in the immediate future and beyond… In all his endeavours, Dr. Jagan's unparalleled humility and humanity saw no issue as being too large or too small when advancing the cause of the common folk… As a people , we are all the richer for the wisdom and contribution of Dr. Jagan."
<![if !vml]> <![endif]>

Cuba's President Fidel Castro said in his message that he was "deeply grieved by the sad news." He went on to say he had "very close bonds of friendship" with Cheddi Jagan. And that Guyanese and Caribbean People have lost "one of their most outstanding figures."
<![if !vml]> <![endif]>

The Cuban Federation of Women wrote: "the Cuban people and particularly the women will always remember Cheddi Jagan as an untireable struggler for social justice and independence.."
<![if !vml]> <![endif]>

Cuba paid tribute to Cheddi Jagan by declaring March 7-9, as three official days of mourning for him.
<![if !vml]> <![endif]>

Caricom Chairman, Lester Bird said in his message that Cheddi Jagan was no "colonial stooge.... No man did more to set his country free. Dr. Jagan can rest comfortably in the secure knowledge that he fulfilled for his country and the region much more than could be expected from a single human being even one as exceptional as he."
<![if !vml]> <![endif]>

Edward Seaga, Leader of the Opposition in Jamaica wrote: "His integrity and deep commitment to principles in which he believed made him an outstanding figure in the political spectrum."
<![if !vml]> <![endif]>

Prime Minister of Barbados, Owen Arthur, remembered him as a "…quiet, warn, dignified and charismatic person …He was a true champion of Third World Solidarity and development… I shall surely miss his wise and sober counsel… I will direct that all flags be flown at half-mast in Barbados on the day of his funeral…"
<![if !vml]> <![endif]>

Grenada's Prime Minister, Dr. Keith Mitchell said: "He showed genuine love for all Caribbean peoples and was the champion for the working class in the country and has been consistently so throughout his entire life. I don't think there is any politician that has shown that longevity in terms of standing for principles despite the difficulties which he had to face in Guyana in the 70's and the 60's and so on."
<![if !vml]> <![endif]>

Chief Minister of the British Virgin Islands, Ralph O'Neal wrote: "I will always treasure our fine relationship and his very sage advice given, especially during our regional meetings. The Caribbean has indeed lost a political stalwart, a leader and a voice for the people of Guyana."
<![if !vml]> <![endif]>

President of the Inter-American Development Bank (IDB), Mr. Enrique Iglesias wrote: "President Jagan was one of the most lucid leaders of the Americas and the Caribbean, a man of thought and deep convictions, who followed up his ideas with great political vigor all his life."
<![if !vml]> <![endif]>

Dominica Prime Minister, Edison James said: "All of us as Caricom Heads will remember one of the major contributions that Dr. Jagan continued to make and that was to urge all of us as to the need for a Regional Development Fund, later named the Regional Integration Fund – something which Dr. Jagan saw as a crucial and indispensable tool in taking this region to a higher level of development."
<![if !vml]> <![endif]>

The Women's Progressive Organisation (Guyana) the women's section of the People's Progressive Party wrote: "The WPO in this sorrowful period, wishes to acknowledge the great contribution our great and beloved leader made towards the Guyanese nation. He served the Guyanese people with dedication, commitment and integrity. These attributes became the sustaining factor of his life's work during the long battles for an independent Guyana. Therefore it is heart-wrenching to begin to accept the loss of such a dedicated patriot of Guyana…"
<![if !vml]> <![endif]>

The Guyana Private Sector Commission wrote: "…He struggled for the working class but never lost sight of the role that the private sector played in helping him to achieve his goal. His humility and sincerity and his willingness to always consult with the private sector will always be remembered by the business community."
<![if !vml]> <![endif]>

Guyana's Bishop Randolph George wrote: "He was one of nature's own noblemen. Of irreproachable life he was first and foremost a family man. He was sincere and earnest. What he believed he believed with heart and soul. It will be difficult to find another Guyanese who will embody all his traits; his dedication, his courage, his integrity, his genial personality and genuine instincts. His passing leaves a void which will not easily be filled."
<![if !vml]> <![endif]>

The Editorial of the Catholic Standard, March 9, 1997 wrote: "There can be no doubt that Cheddi Jagan is in a class of the great, extraordinary inimitable figures that the twentieth century has produced… One only has to examine the career of this brilliant humanist and the picture of who he truly was, not only gets clearer but more fascinating… Few people around the globe have matched this astonishing energy and indomitable spirit… He did not come within the category of temperamental, impatient, nervously aggressive chauvinistic politicians… He avoided vindictiveness and malice in his relations with all people… He not only avoided the temptations which power brings but also avoided its corruption of wealth…"
<![if !vml]> <![endif]>

Manzoor Nadir, Leader of the United Force wrote: "None can deny that Dr. Jagan is the Father of the State of Guyana… While we held different political beliefs we count ourselves fortunate to have lived, worked and struggled in Guyana with him during this era…"
<![if !vml]> <![endif]>

Feroze Mohamed, Guyana's Minister of Home Affairs said: "Once in a while, history provides a people with a leader who is truly outstanding, Dr. Cheddi Jagan was such a leader. What distinguished him from others was that special ability to understand the central contradiction of the times, to grasp the most critical question of the day and ably articulate them in a simple and understandable way. He was able, thus, to inspire and lead masses into struggle. Dr. Jagan has repeatedly demonstrated this quality and it was this, among others, that endeared him to his people and sustained his popularity among the masses for five decades."
<![if !vml]> <![endif]>

Read all the messages sent into "The Dr. Cheddi Jagan Condolence Book"
on the Internet from March 7 to March 16, 1997
Messages of Condolences