CJRS mounts portrait of Dr. Cheddi Jagan at Queen's College - in remembrance of his works and achievements
March 9, 2015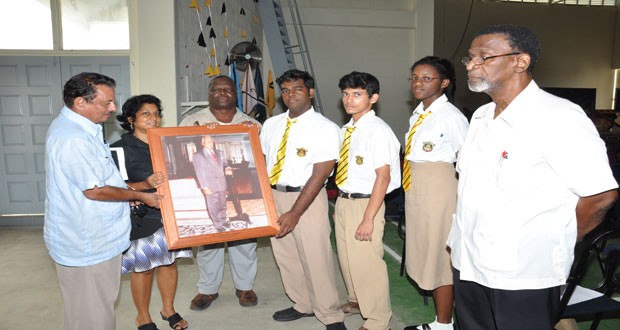 Mr. Hydar Ally (first from left) and Dr. Dionne Fries hand over the portrait of Dr. Cheddi Jagan to students and officials of Queen's College
MEMBERS of the Cheddi Jagan Research Centre (CJRC) yesterday mounted a portrait of the late Dr. Cheddi Jagan at Queen's College, in remembrance of the works and achievements of this late great son of the soil and former president of the country in a month which is of great significance to the people of Guyana.Speaking at the attendant ceremony, Chairman of the Cheddi Jagan Research Centre, Mr. Hydar Ally, underscored that March is a very significant month in the country's calendar because it is the month in which Dr. Jagan both came into the world and departed this life. "Therefore it is a good occasion to mount a portrait of him at the school which he once attended some time ago," Mr. Ally remarked.
Thanking the Board and Management of Queen's College for allowing the portrait to be mounted, Ally highlighted that similar such exercises were recently done at the two primary schools which Dr. Jagan had attended in Berbice.
In brief remarks at the ceremony yesterday, Dr. Dionne Fries, member of the Board of Directors of the CJRS and niece of the late Dr. Jagan, disclosed that the exercise is timely because it gives opportunity to portray the greatness of Dr. Jagan.
Emphasising the importance of education in one's life, Dr. Fries detailed how it played a pivotal role in Dr. Jagan's life, and said that were it not for his being educated, Dr. Jagan could not have achieved the things he had achieved.